How Much Does Invisalign Cost on Long Island?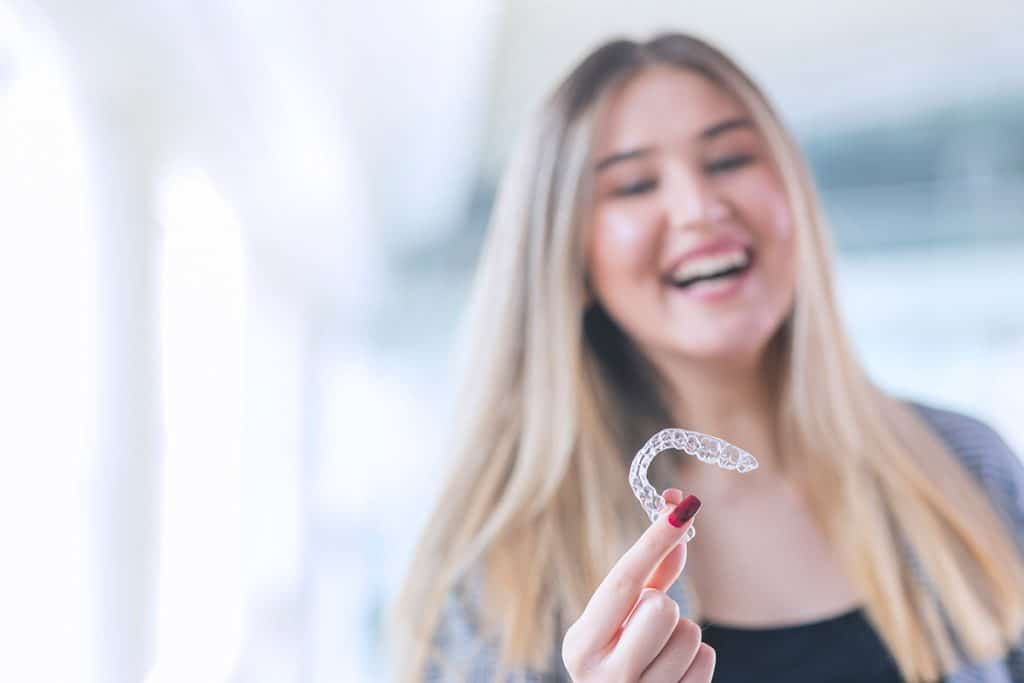 As a highly-effective treatment for mild to moderate orthodontic issues, Invisalign has risen in popularity among those seeking an alternative to traditional braces. Whether the need is to straighten teeth or realign a bite, this treatment can be just as effective and timely as other options.
While many patients are interested in what Invisalign can do, the first question is often, "How much does it cost?" We've got the answers you are looking for.
How Invisalign Works
Invisalign works in much the same ways as traditional braces. Instead of brackets and wires, however, it uses clear aligners that encourage your teeth to move into straight, proper alignment.
During your office visit, a digital 3-D model of your teeth will be taken. This will then be used to create a series of aligners that will move your teeth from where they currently are to where you want them to be.
Your dentist will provide you with a set of aligners and provide you with instructions on how often to change them. Typically, this is every two weeks or so. The new aligner will be slightly tighter which is necessary to keep the transformation happening in the right direction.
Occasional follow-ups with your dentist will confirm that everything is going according to plan. And, if any changes or adjustments need to be made, this is when that will happen.
Invisalign treatment is simple and effective without causing too many disruptions or changes to your life.
How Much Does Invisalign Cost on Long Island?
On average, the cost of Invisalign on Long Island is roughly between $3,500 and $5,500. Where you fall in this range can depend greatly on the extent of your orthodontic treatment.
Setting an appointment with your dentist to discuss whether or not Invisalign is right for you is a great way to uncover the cost of your treatment. Remember, Invisalign aligners are made custom to meet a patient's orthodontic needs. Depending on what those needs are, your dentist will be able to give you a much more specific cost.
Is Invisalign Worth the Cost?
There are many advantages to investing in Invisalign that sets them apart from other options. And for those patients who have undergone this treatment for their orthodontic issues, reaping the benefits is often enough to agree that Invisalign is worth the cost.
Soft, clear, and comfortable aligners
Invisible treatment
Removable aligners make eating, drinking, and oral hygiene easy
Easy to clean and maintain
Fewer required office visits
No bulky hardware in your mouth
Maintain your appearance
Fix oral health issues in a timely manner
When worn as they should be, Invisalign can provide the same results as traditional braces in about the same amount of time.
Invest in Invisalign at Chimon Family Dentistry
At Chimon Family Dentistry, we offer high-quality dental solutions - and that includes Invisalign. We have watched many patients find success with a transformed smile and a healthier mouth thanks to this treatment.
If you are interested in learning more, contact us today at 516-877-2737. Or, request an appointment online.
Recent Posts
Contact Us
Chimon Family Dentistry
810 Willis Avenue
Albertson, NY 11507
Monday | Closed
Tuesday | 8am - 5:30pm
Wednesday | 9am - 7:30pm
Thursday | 8am - 5:30pm
Friday | (Alt) 8am - 2pm
Saturday | (Alt) 8am - 2pm
Sunday | Closed