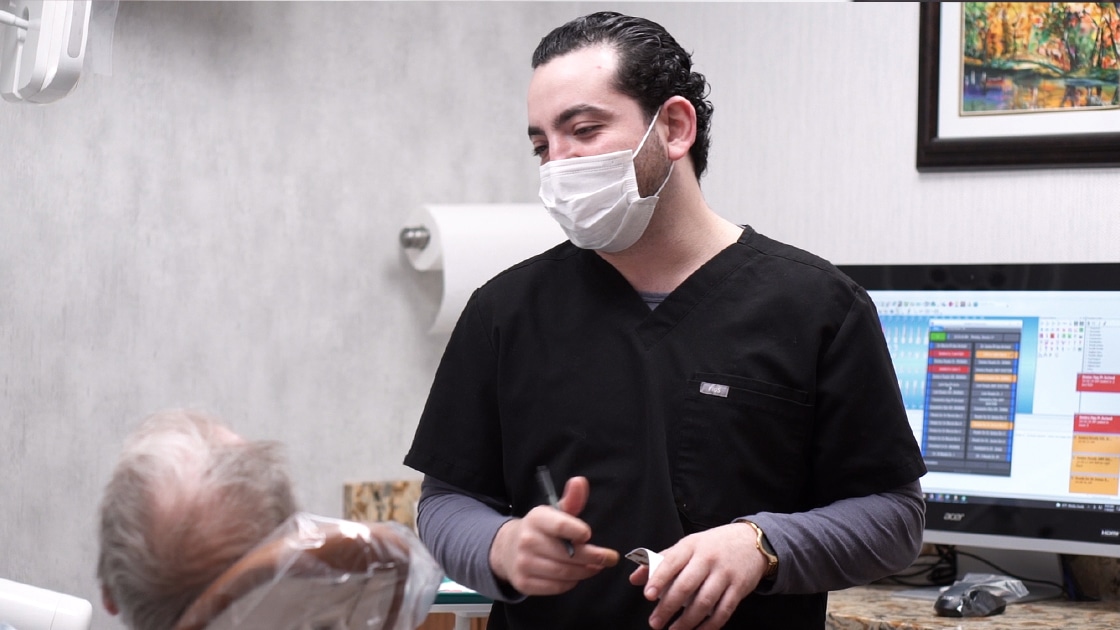 The dentists at Chimon Family Dentistry provide emergency dental services to patients in Albertson, NY and thoughout Long Island. Call our office at
516-877-2737
to schedule an immediate appointment.
During office hours, we will see you as soon as possible. After office hours, please give the office a call and follow the instructions provided. We will return your call as soon as possible.
If you are experiencing a serious or life-threatening emergency, please call 911 or visit the nearest emergency room.
What Is Emergency Dentistry?

Not all dental problems will keep until a regularly scheduled office visit. If you have a severe toothache, a lost filling, or a knocked-out or broken tooth, you need dental attention as soon as possible.
Some dental offices offer emergency dentistry or the ability to be seen on a same-day or weekend basis. The sooner dental trauma receives treatment, complete recovery becomes more likely.
Procedures Offered

Here are examples of the emergency procedures we offer:
Cracked Teeth
Teeth may crack for various reasons. Biting something hard like ice, bones, or nuts could lead to a crack. People with bruxism who grind their teeth at night are also more likely to crack a tooth. After age 50, the teeth become more brittle and likely to crack.
Dental Trauma
Accidents or injuries cause dental problems as well. If you have fallen or received a blow to the face, you may experience broken teeth. The dentist will assess the tooth to see if it needs a root canal or whether they can repair it using other methods.
Dislodged Teeth
Sometimes dental trauma causes teeth to fall out. If your tooth falls out, don't panic. Dentists can often save lost teeth as long as you get to the office promptly.
Severe Toothache
Call an emergency dentist if you experience severe pain that doesn't respond to home comfort measures and keeps getting worse. You may have an abscess or infection.
Lost Fillings and Crowns
A lost filling or crown doesn't sound like a dental emergency, but losing a filling exposes the inside of the tooth to bacteria. This problem can cause painful infections. If you lose a filling, call the dentist as soon as possible.
Why Choose Chimon Family Dentistry?

Our family-friendly office on Long Island gives patients the peace of mind that they can get a quick appointment if they have a dental emergency. We foster a comfortable environment for our patients and concentrate on delivering the best possible service.
Frequently Asked Questions About Dental Emergencies

Our patients' most common questions are below:
What should I do if my tooth falls out?
If you experience a dislodged tooth, rinse the tooth gently with water or milk. Keep the tooth in a little milk until you can get to the emergency dentist. The sooner you are in the office, the easier it will be for the dentist to save your tooth. If you see the dentist promptly, ideally within an hour, they have a better chance of replacing your tooth.
Why is it an emergency if I lose a filling or crown?

If you lose a crown or filling, it may not cause pain immediately. Foreign particles entering the tooth also cause pain. If the tooth is exposed for very long, it is likely you will develop an infection. The dentist may need to clear infected matter or care for new decay.
What are the signs of an abscessed tooth?
Abscessed teeth cause a great deal of pain. See a dentist immediately if you have a pimple-like swelling on your gum. An abscess can lead to systemic infection or tooth loss if left unchecked.
What should I do if I cut my tongue, lip, or cheek?
If it is bleeding profusely, go to the emergency room. You may need stitches. To care for yourself at home, put a cold compress on the area if the bleeding has stopped. If it is a minor cut, rinse gently with a salt-water solution.
What should I do if I chip a tooth?
Use a cold compress to help with the pain until you get to the dentist. In this situation, seeing the dentist as soon as possible is vital.
What if my teeth suddenly become cold- or heat-sensitive?
New sensitivity often points to gum recession that can happen with periodontitis or gum disease. See your dentist to discuss periodontal treatments.
Call Chimon Family Dentistry

Dental pain and trauma don't wait until office hours. For help with your emergency dental needs, call our Albertson, NY, office at
516-877-2737
. We will do our best to see you as soon as possible. If you call after hours, follow the given instructions.