Chimon Family Dentistry offers dental implant services. To make an appointment with our Long Island office, call 516-877-2737.
What Are Dental Implants?
Dental implants are titanium posts that fuse with the jawbone. The dentist surgically installs the post in the jawbone and lets it heal for several months. On top of the post, the dentist then places a crown that replaces a natural tooth.
Implants can be brushed, flossed, and cared for like natural teeth. They form a seamless replacement for missing or broken teeth.
Benefits of Dental Implants
Here are several of the top benefits of getting dental implants:
Lifelike Appearance
Dental implants are the most convincing replacements for natural teeth. They create a beautiful, authentic appearance in your smile.
Easy Care
Caring for dental implants is simple. Brush and floss them normally. You don't need to take them out to clean them.
Implants Are Durable
A partial denture or bridge is less expensive up front, but these appliances wear out much more quickly than implants. Partials and bridges last less than 10 years, whereas implants could last 30 years. The post itself may last a lifetime.
Implants Prevent Bone Loss
When a gap in the teeth persists, the jawbone begins to break down and reabsorb into the gum. This situation means that the jaw may weaken, and surrounding teeth may become loose. To prevent these problems, the dentist may perform a bone graft to reinforce the jaw in preparation for an implant.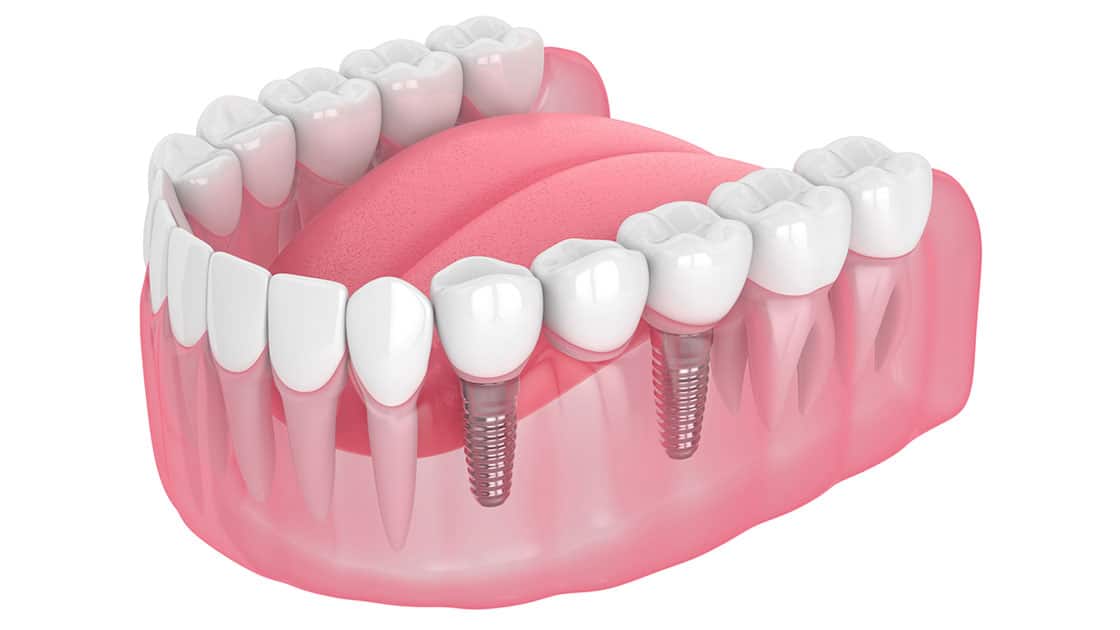 Are You a Good Candidate for Implants?
People who have missing or compromised teeth are usually good candidates for dental implants. Before getting dental implant surgery, the dentist needs to check your jaw to ensure it is strong enough to accept the implants. You can get a bone graft to help your jaw strength. They also need to treat any gum disease you may have.
Our office also provides mini dental implants for patients who need a less invasive procedure or have lower jawbone density.
Why Choose Chimon Dentistry?
Our office is friendly and helpful with a modern approach. You and your family can feel comfortable bringing us your dental concerns anytime. We have much experience placing dental implants successfully.
Frequently Asked Questions About Dental Implants

Here are our answers to common questions from our patients:
Why do I need to replace a missing tooth?
If you have had a tooth extracted but haven't gotten an implant, bridge, or partial denture, you will have a space in your mouth. If you leave this space alone for an extended period, the teeth around it will move. This problem could disrupt your teeth's natural alignment and cause other dental problems like TMJ or tooth grinding. It could also cause bone loss in the jaw. If you need to have a damaged tooth extracted, consider replacing the lost tooth with an implant as soon as possible.
Is it painful to get dental implants?
Placing the implant involves oral surgery, but most people tolerate it very well with minimal medication. There may be some discomfort, swelling, and bruising after the procedure, but this is normal and does not last long.
How long does it take to get a single-tooth dental implant?
Getting a single-tooth dental implant is a multi-step process. First, if there is one, the existing tooth needs to be extracted and any necessary bone grafts placed. The bone graft can go in at the same time as the extraction surgery or a later date.
Next, the titanium post goes in. The dentist uses a special drill to open a space in the jaw for the implant. The dentist screws in the post and covers the site, leaving it to heal.
After the post fuses with the jaw, the crown is placed, completing the restoration. After your crowns, your implants will function like natural teeth.
The whole process, from tooth extraction to crown placement, can take five months to a year, depending on healing time and the presence of bone grafts.
How many teeth at once can you replace with dental implants?
Our office can replace an entire arch of teeth with one set of implant-supported dentures. These dentures can be either fixed or removable and require two to six implants.
Call Chimon Family Dentistry

If you need an extraction or already have missing teeth, consider getting dental implants. Implants support proper bone growth and prevent teeth from shifting positions. You can replace just one tooth or an entire arch.
An implant can give you new confidence in your smile with a realistic replacement for your missing teeth. To make an appointment with our experienced dentists, call 516-877-2737.