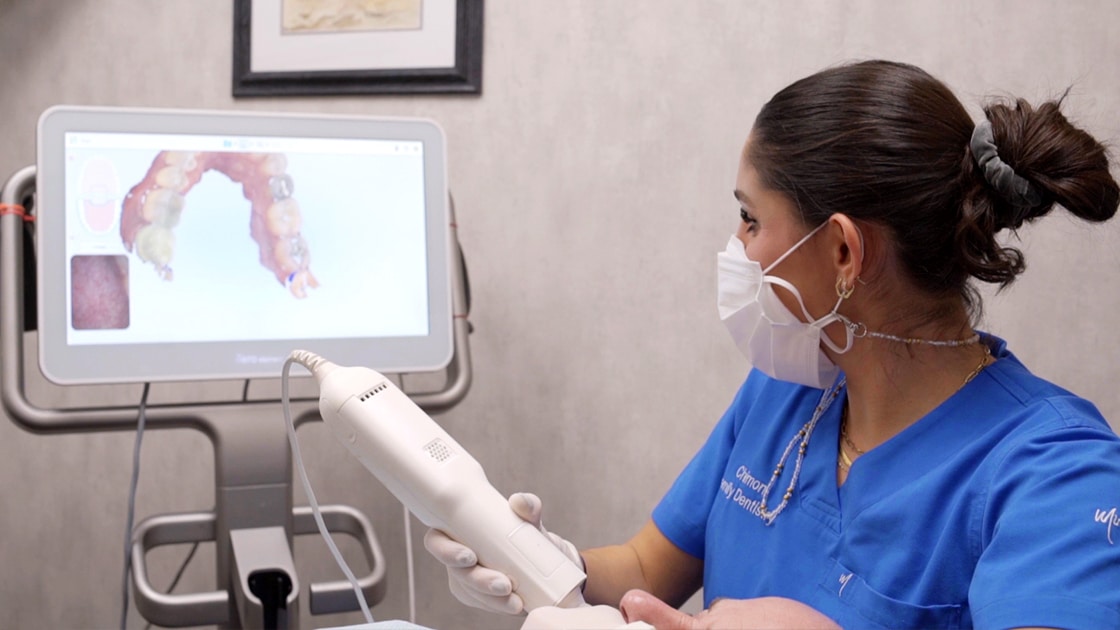 Chimon Family Dentistry provides dental implants in Albertson, NY. Call 516-877-2737 to learn more and schedule an appointment.
What is a Digital Dentistry?
Digital dentistry refers to adopting computerized technologies to fulfill your dental needs. Chimon Family Dentistry utilizes these new techniques to enhance your treatment speed, safety, and quality.
Two aspects of digital dentistry that our practice uses are the iTero scanner and digital X-rays. Both techniques are valuable tools for the dentist and create more convenience for the patient.
iTero Scanner
The iTero scanner or intraoral camera replaces old methods of taking dental impressions for orthodontic and restorative work. Patients no longer have to sit with a tray of a sticky medium in their mouths for an extended period.
The process now involves moving a small, handheld wand around the patient's mouth and taking 3-D scans of the teeth and soft tissue. These scans provide fine details and enable dentists to make accurate restorative pieces. The dentist can easily show the patient the scan and discuss any issues they see.
Digital X-Rays

Digital X-rays or radiographs use digital X-ray sensors instead of photographic film. The images produced have greater detail levels than those made on traditional film.
Benefits of Digital Dentistry
Digital dentistry can benefit every patient. From children who have trouble sitting still for an impression or X-ray to anxious adult patients, digital dentistry can help practitioners smooth the way. Here are several of the top benefits:
Digital X-ray sensors are more sensitive than film, requiring less radiation. While X-rays are considered generally safe, digital X-rays use 80 percent less radiation than their traditional counterparts.
Quick Image Viewing and Sharing
Dentists appreciate digital X-rays because they are easy to store, send, and share with colleagues. There is no waiting period to develop the film, and the dentist can manipulate the images on the screen to show more detail.
Digital X-rays show more detail than their traditional counterparts. They can show small pockets of decay, infections, gum disease, cysts, and abscesses at earlier stages, increasing the likelihood of successful treatment.
Faster and More Accurate Impressions
Getting impressions is incredibly quick compared to older methods. Also, digital impressions such as those produced by the iTero scanner are more accurate.
Dental impressions and X-rays were often dreaded in the past, especially by anxious patients or those with strong gag reflexes. Newer methods are more comfortable for patients.
Are You a Good Candidate for Digital Dentistry?
Anyone who visits the dentist is an excellent candidate for digital dentistry. Our practice's technology has moved forward to the degree where taking impressions with gooey trays or viewing grainy film images of X-rays are in the past.
Children, anxious, and special-needs patients stand to gain the most from digital dentistry. It shortens their time in the chair and allows the dentist to show them exactly what they are doing during the procedure.
Why Choose Chimon Family Dentistry?

Our warm, friendly practice welcomes your entire family. Using the most up-to-date techniques, we treat dental problems and prevent future issues. Our father-and-daughter dentist team will help you achieve optimal dental health in a non-judgmental atmosphere.
Call 516-877-2737 to schedule an appointment.
Frequently Asked Questions About Digital Dentistry

Here are some common questions about digital dentistry and our answers:
How long does it take to do digital X-rays?

Taking digital X-rays uses the same process as in the past, but you no longer have to wait for results. Taking a complete set of full-mouth X-rays typically takes about 20 to 25 minutes.
Why is the iTero scanner more accurate than impression trays?

When sitting for a traditional dental impression, patients must ensure they do not move. Moving the mouth can create an inaccurate impression. Also, air bubbles in the impression medium could cause problems. The iTero scanner solves both of these issues.
The iTero scanner creates a highly accurate 3-D CAD/CAM map of the inside of your mouth. The dentist can more easily create orthodontic appliances and appliances for sleep apnea, teeth grinding, and sports.
Why should I consider going to a practice that has digital dentistry?

Dental practices that have adopted digital methods can get their work done more efficiently, saving patients time and money.
Call Chimon Family Dentistry

Digital dentistry, including digital X-rays and the iTero scanner, has revolutionized how dentists collect and share information. It has also made dentistry more comfortable and convenient. Call Chimon Family Dentistry at 516-877-2737 to find out what digital dentistry can do for you and set up an appointment.