Can Invisalign Fix An Overbite?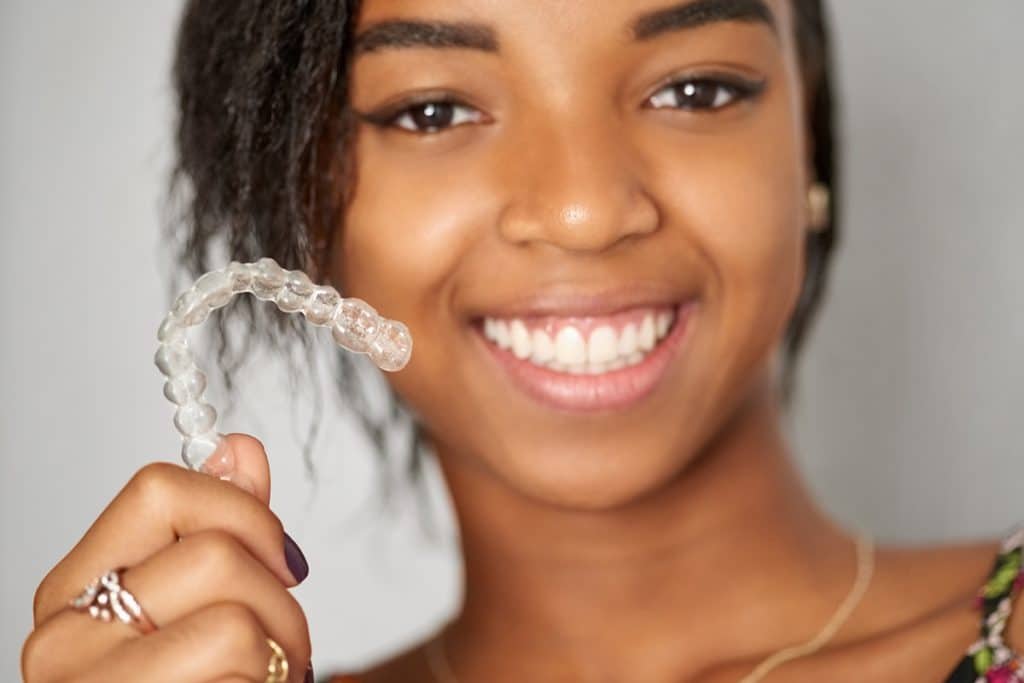 An overbite may be an annoying oral health issue, but it's not one you have to live with. Orthodontic treatment can often correct an overbite.
However, you might not be thrilled about the idea of wearing traditional metal and wire braces. Perhaps you're wondering if it's possible to correct an overbite with Invisalign.
While the best way to learn whether Invisalign is right for you is to discuss the matter with your dentist, in the meantime, this overview should answer some of your basic questions about the topic.
What is an Overbite?
An overbite is a dental misalignment that occurs when the top set of teeth protrudes further than the bottom set. Depending on the severity of a patient's overbite, if left untreated, this type of misalignment could result in such health issues as:
Difficulty breathing
Discomfort when chewing
Speech problems
Greater odds of developing gum disease and dental decay
Pain
TMJ disorders
An overbite can also have a negative impact on a patient's appearance. By undergoing treatment, a patient may find both their health and their looks improve.
What Causes an Overbite?
Overbites tend to develop during young childhood. Factors that can increase a child's chances of developing an overbite include the following:
Genetics
Nail biting
Teeth grinding
Excessive thumbsucking and/or pacifier usage
Tongue thrusting
How Invisalign Works
Invisalign is an alternative to traditional braces that involves wearing transparent aligners. Over time, the aligners push teeth into place to correct a misalignment.
Benefits of Invisalign include the following:
Minimal impact on a patient's appearance during treatment, as Invisalign aligners are far more discreet than metal and wire braces
Fewer limitations on a patient's diet, as patients remove aligners before eating
Easier brushing and flossing, once again because unlike braces, aligners don't have to stay in the mouth when a patient attends to their oral hygiene needs
Fixing an Overbite With Invisalign: What You Need to Know
It's important to understand that Invisalign may not always be an effective treatment option for an overbite. If a patient's overbite is particularly severe, Invisalign may not yield the desired results.
That said, in some instances, a patient with an overbite may be a candidate for Invisalign treatment. Per Invisalign's website, a patient with an overbite may opt for aligners with mandibular advancement features. With mandibular advancement, the aligners push teeth into their desired position while "wings" on the aligners push the lower jaw into alignment with the upper jaw.
Speak With a Dentist About Invisalign for an Overbite
Again, only a dental health professional can determine if Invisalign will be an effective treatment for your overbite. If they determine your overbite isn't very severe, you may be able to address it with Invisalign, avoiding the common drawbacks of traditional braces.
Learn More About Invisalign in Albertson, NY
At Chimon Family Dentistry, we're prepared to evaluate the nature of your bite and determine if Invisalign is the proper treatment for your needs. Get started today by contacting us online or calling us at 516-877-2737 to request an appointment.
Recent Posts
Contact Us
Chimon Family Dentistry
810 Willis Avenue
Albertson, NY 11507
Monday | Closed
Tuesday | 8am - 5:30pm
Wednesday | 9am - 7:30pm
Thursday | 8am - 5:30pm
Friday | (Alt) 8am - 2pm
Saturday | (Alt) 8am - 2pm
Sunday | Closed