How Does Invisalign Work?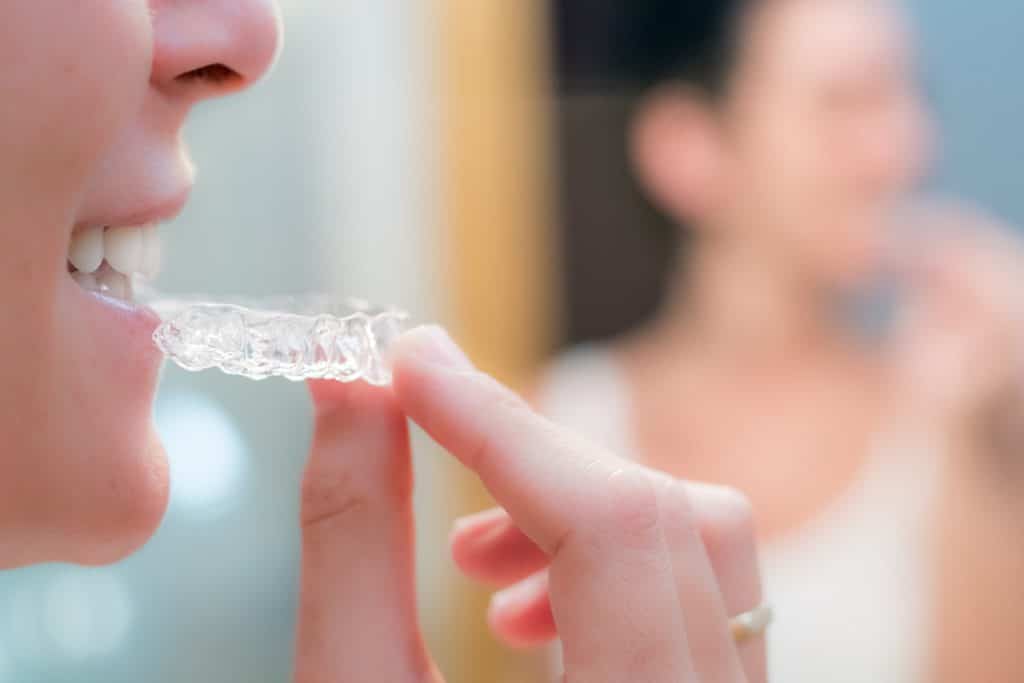 Invisalign® is a simple yet sophisticated orthodontic system that produces beautiful results without the hassle of traditional braces. It works faster than standard braces and lets you straighten your teeth discreetly.
Guided by 3-D digital scans, the dentist creates a sequence of graduated clear aligners that gently shift your teeth into new positions. Within 12 to 18 months, most Invisalign® patients complete their treatment.
The Invisalign® System
The first step in receiving Invisalign® is a digital 3-D scan of your teeth. Your dentist will analyze the placement of your teeth and determine how to move them to create the best results.
After the dentist designs the aligners, they transmit the data to the company's lab, which will take approximately four to six weeks to make the aligners.
The company constructs its aligners from a special medical-grade plastic for maximum comfort and durability. The aligners do not contain BPA or phthalates.
The aligners are thin enough to be comfortable while retaining their strength in shifting your teeth to the best positions.
When the aligners arrive, the dentist will have you wear each one for one to two weeks before switching to the next. Gentle, gradual pressure will move your teeth and create your new smile. The dentist will want to see you approximately every six weeks for a progress check.
You will need to wear your aligners for 22 hours daily to achieve the desired results. You can remove the aligners to eat, drink, and care for your teeth.
Advantages of Invisalign® Over Braces
Faster than Braces
Invisalign® often provides results in 12 to 18 months, unlike traditional braces, which can take from 18 months to 3 years.
Invisalign® is faster than braces because the system applies constant, gentle pressure that moves teeth. Braces need regular adjustments to keep the teeth moving.
Discreet
Busy adults and teens appreciate straightening their teeth without drawing unwanted attention. Unless you tell someone that you are using Invisalign®, it's unlikely that they would be able to tell you are wearing your aligners.
Easy Oral Care
Since the aligners come out to brush and floss, keeping your teeth clean during treatment is much simpler. Brushing and flossing around standard braces can be a problem, and braces patients' oral health may suffer.
Eat What You Like
Invisalign® patients do not have restrictions on what they can eat and drink, unlike braces patients who need to avoid crunchy, chewy, and hard foods. The aligners come out at mealtimes, and as long as you brush and floss after meals, you can choose your favorite foods.
Call Chimon Family Dentistry
If you want to know how Invisalign® can help you look your best while improving your oral health, call Chimon Family Dentistry at 516-877-2737. We can arrange a consultation with one of our expert dentists and help you understand your options for straightening your teeth.
Recent Posts
Contact Us
Chimon Family Dentistry
810 Willis Avenue
Albertson, NY 11507
Monday | Closed
Tuesday | 8am - 5:30pm
Wednesday | 9am - 7:30pm
Thursday | 8am - 5:30pm
Friday | (Alt) 8am - 2pm
Saturday | (Alt) 8am - 2pm
Sunday | Closed