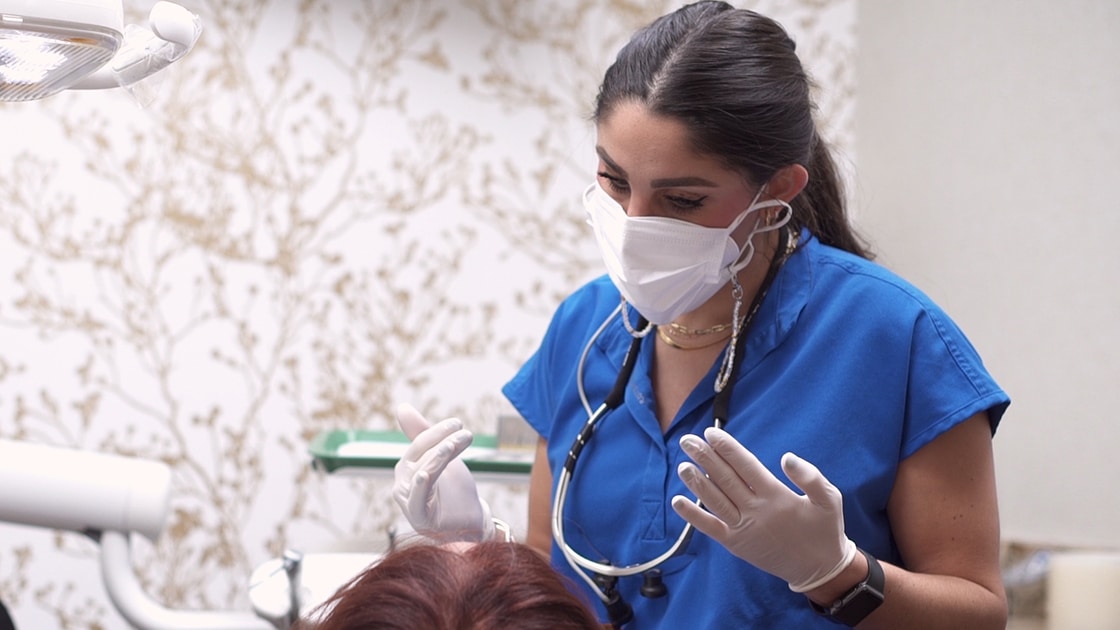 Chimon Family Dentistry offers facial injectables like Botox® and Xeomin® and dermal fillers like Juvederm® and Versa™ in Albertson, NY. 
Call
516-877-2737
to make an appointment for a consultation.
What Are Injectables?
Injectables have become popular over the past several years as more people recognize the safety and effectiveness of these medications.
Muscles in the face contribute to medical conditions like migraines and TMJ (temporomandibular joint) syndrome. These muscles also cause wrinkles in the facial skin. Injectables are medications that affect the facial muscles, allowing people to relax without migraines and TMJ pain and enjoy how they look with fewer wrinkles.
Botox®
Botox® received FDA approval as a treatment for chronic migraine in 2010. The medication paralyzes nerves that carry pain signals. Its active ingredient comes from the botulinum toxin.
In addition to treating painful conditions, Botox® also helps people reduce the fine lines and wrinkles that come with age. It can smooth forehead wrinkles, unravel crow's feet, and make short work of the vertical wrinkles that form between the brows.
Xeomin®

The difference between Xeomin® and Botox® is in the formulation. Xeomin® contains only the botulinum toxin, whereas Botox® also contains other protective proteins.
Botox® is better for forehead lines and crow's feet, while Xeomin® is better for the vertical frown lines between the eyebrows.
Juvederm®
Juvederm® is a different type of facial injectable known as a filler. Made of hyaluronic acid, a compound naturally found in the skin, Juvederm® can bring fullness back to the lips, cheeks, nose, and jawline.
Versa™
Versa™ is another type of filler made from hyaluronic acid. This filler is similar to Juvederm® but produces far less swelling post-injection. This feature makes it easier to correct the volume of the face because the clinician can see what the result of the filler is and what is the result of swelling.
Benefits of Injectables
Here are several benefits of facial injectables:
Smooths Wrinkles Away
According to patients who are getting injectables for cosmetic reasons, the top benefit of these medications is the near-erasure of facial wrinkles. Botox® and Xeomin® can take years of worry off your face.
Juvederm® and Versa™ work by plumping facial areas that naturally lose volume as they age. The effects of both types of facial injectables are temporary but may last for several months to a few years before they need renewal.
Treats Chronic Migraines
Botox® is FDA approved for treating chronic migraines. Migraine patients who would otherwise need to depend on potent pain medication may reduce their headache days by using Botox®.
Helps With TMJ and Bruxism
While Botox® is not yet FDA-approved for treating TMJ, the medication works on similar principles by relieving muscle tension. Some practitioners also use Botox® and Xeomin® for teeth grinding or bruxism.
Improves Facial Fullness
Dermal fillers can erase signs of aging and give your face a more youthful appearance. As we age, our faces naturally lose volume. Hyaluronic acid fillers, when adequately targeted, reduce the look of aging.
Are You a Good Candidate for Injectables?
Anyone who suffers from chronic migraines or TMJ may look for a more straightforward way to treat their condition. Botulinum toxin injectables may be the right choice for them.
People who are unhappy with how their faces have aged may be interested in getting botulinum injections or dermal fillers. Botulinum injections like Botox® and Xeomin® are excellent choices for fine wrinkles in the skin. Fillers can help with sagging jawlines and thin lips, among other facial aesthetic issues.
Why Choose Chimon Family Dentistry?
Our practice focuses not only on dentistry but also on the expert application of facial fillers and botulinum toxin medications. We offer a friendly, non-judgmental atmosphere and work to make our patients feel their best, both from a dental and facial perspective.
Frequently Asked Questions About Injectables
Here are several of our patients' questions:
What does Botox® feel like?
Most patients report that Botox injections only cause minimal discomfort.
Is Botox® or Xeomin® treatment painful?
Patients say that these treatments may be uncomfortable in the short term but that they can return to work or school directly after receiving the treatment.
How long does it take to see results?

It can take a few weeks to view the complete effects of botulinum injection. Most patients see results within three to five days.
How long do fillers last?
Facial fillers are not permanent. Their effects last for about six to 24 months in many patients.
Call Chimon Family Dentistry
Whether you are interested in them for medical or aesthetic reasons, Chimon Family Dentistry is ready to help you with injectables and fillers.
Call us at
516-877-2737
for more information and to set up an appointment.